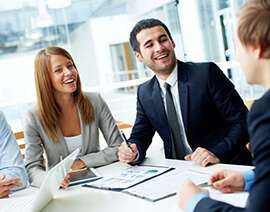 Georgia Facility Services is a professional commercial janitorial services company that offers "turn-key" cleaning solutions for its commercial clients. Our passion and dedication to our clients has allowed us to go far in the industry. With more than 15 + years of experience in the commercial cleaning industry, we have catered to a large variety of different industries. We understand that commercial cleaning is all about designing services around the needs of the client. And, therefore each of our commercial customers receives personalized, tailored cleaning packages and services.
We feel our quality remains unsurpassed because we focus on recruiting qualified, professional and an experienced workforce. We train our team to ensure that they are capable of delivering results as per our stringent quality standards. We have been fortunate to serve hundreds of satisfied commercial customers over the years. And, strive to deliver cleaning services that are efficient, timely as well as affordable for our clients. Our professional management team ensures that each of our commercial clients receives undivided attention and dedicated services as per their needs. Within our professional cleaning services division, we strive to achieve a zero error rate. And, to provide the best possible experience to all of our customers.
Allow us to serve you and we are confident you will not be disappointed in any way. By partnering with Georgia Facility Services your organization will benefit with cost and time efficiency through "know-how" technology and methods!